Summer…it turns me upside down
Summer, summer, summer
It's like a merry-go-round.
Just like the Cars sang, the merry-go-round that is the calendar is about to turn to Summer.
School ends next week. It's even getting warm in my northern Michigan town, finally. I can't deny it any longer.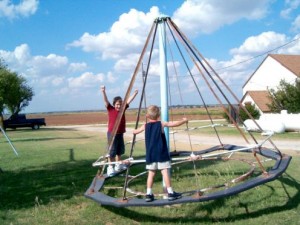 Summer's tough for many families with a child on the spectrum as the spine of the structure of their lives–the school day—vanishes. Our last one was miserable. Long, unstructured days provoked my son's easily-aroused anxiety, which sent his behavior spiraling down. Lacking that six-hour school day break, my husband and I were more stressed, to the point where I sometimes fled to the garage to scream obscenities as a release. Frequent disruptions cropped up—for vacations, therapists taking vacations, guests visiting—compounding anxiety and stress and misbehavior. To top it off, we didn't have air conditioning.
Notice the past tense of that paragraph, though. This summer, I am vowing, will be better. One huge reason: We enter it poised for the payoff that led us to choose a Montessori school for our son two years ago. Next year, he'll return to the same classroom. No transition will loom over Summer 2013.
In hindsight, we believe anxiety over an ill-suited new teacher contributed significantly to last summer's trials hell. Well-founded anxiety, as it turned out, since we had to request a new classroom assignment three weeks into the school year. He's thrived in the second class ever since. An encouraging sign: Christmas break, which I had dreaded, wound up going fairly smoothly.
We've also lined up more structure, in the form of an ABA therapist who will work in our home three days a week. Michigan passed autism insurance reform last year, making this more affordable. Clearing all the hoops with insurance meant starting back in November. But we did it.
One more thing. My vow is better. Not perfect. I'm not deluding myself about the reality of the summer merry-go-round. But the garage is still there. We don't have air conditioning, but we got a ceiling fan. When I feel our world start to spin out of control, I can lift my face to its cooling breeze and remember summer, too, shall pass.
How are you preparing for summer?