I've had a lot of people ask me about Sensory Processing Disorder lately and that's largely because most people, the average person, can't really imagine what that's like. A lot of it makes no sense to them. And I'll get back to that point shortly but first, I thought I'd try to give you a few examples to maybe give you a better idea of what it's like.
When you live in the city all year long and decide to go camping, like, real camping, in the woods with a tent, at some point in the night you'll look up at the stars and realize that it's quiet. Very quiet. Like, eerily quiet. That's when it really sinks in just how loud the city really is. It's still an abstract idea in the sense that you don't suddenly become aware of every specific sound but nevertheless, you realize that city was loud! You hear things all the time! Humming appliances, buzzing lights, traffic, people talking, phones ringing, televisions and music on somewhere, planes flying over head… there's just this big ball of noise all around you all the time and it's not until it's all taken away and you're left with a tent and a night sky that it hits you…  it's quiet.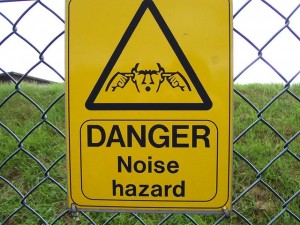 On a smaller scale, another example, you know how through out the day you're going about your day, watching television, having dinner, taking a shower, doing homework… then late at night, you turn off the television and turn off the lights and head for bed and you hear it. The fridge. The motor just powered up. That thing was powering up and powering down all day long, over and over again and making noise in between but you never noticed it until everything else was turned off and it was quiet.
I can write about these things and you can relate to these things because we've all had these experiences, or similar experiences anyway. But actually, not all of us have.
For many people with Sensory Processing Disorder, they don't have those revelations of "wow, I just noticed that!" because they're very keenly aware of all that noise all the time. They're very aware that the fridge is powering up and down all day even when you're not. They're very aware of the traffic and planes and music and people talking and machines humming and everything else in the city. They're bombarded by all of this all of the time because for them, it's not background noise. It's noise. There is no filter in their mind that says "this isn't important so push it into the background."
Getting it? Well, consider this: that's just one of the many senses we have.
Bright lights, flickering lights, colourful lights, scratchy fabrics, hard chair, soft chairs, people touching you, sweet tastes, sour tastes, stringy foods, mushy foods, hard foods, strong smells, lingering smells… I could go on and on and on. All of these things and more are not filtered for many people like it is for you.
You put on a sweater that you might describe as "not the softest but it'll do" while someone with Sensory Processing Disorder would describe it as a thousand spiders with razor feet crawling all over them.
And that's the take away here. These things that I describe to you are not minor annoyances. These aren't "ya, that would suck" experiences that most people think they are. These truly are torture devices.  Imagine try to go about your day with headphones on and in those headphones you hear 30 people talking, 5 planes, 12 cars, 6 machines running and loud music on top of all of it but you can't take the headphones off or turn it down. Imagine that for 2 days. 3 days. Every day. That would drive you mad. Now imagine that also happens with sights, tastes, smells and the things you touch as well.
Does it still make no sense to you? Don't worry, you're not alone. Most people think in terms of what relates to them.
When we're first born, we lack the theory of mind to think of situations from another person's perspective. Most people develop that as a toddler but there's always still a small part that lingers where… if it makes no sense to you, then there's no reason to accept it.
I see it a lot on my Minecraft server actually even with hard set rules. If they don't understand why a rule is a rule, then they just assume that it doesn't apply to them since it makes no sense. Meanwhile many of the rules are there for exactly this reason… such as colourful text in chat. If all chat was colourful, it would be too hard on many young player's senses. But some players don't think that's true because it's not for them and therefore, should be ok for them to do.
It's like… if I can handle all this noise, and this guy can and this guy can… then you can too no matter what you say.
If you are still struggling with this then this is what I suggest you do: Get a recording of noise. Just noise. Background city noise or what ever. Have that loop into some headphones that you wear for one day. Next, put some steel wool in your shirt. Doesn't have to be a lot. Just a clump of the stuff in there. Every hour, take a bite of a lemon and smell some smelling salts. Finally, get one of those little devices that the doctor has to look into your pupils with and shine that in your eyes every 15 minutes throughout the day.
Sounds crazy? Perhaps. But try it, for one day. Wake up and begin and don't stop until bed.
Then you might understand what it's like for some people.