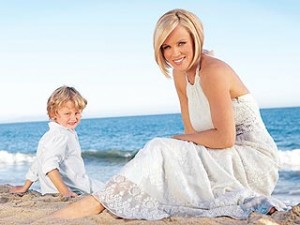 Perhaps I titled this article wrong… paradox should be plural.
If you're an avid Jenny McCarthy fan and have some very strong beliefs in certain things, this may upset you but I still ask that you read with an open mind.
1998
Wakefield releases a study stating ties between the MMR vaccine and Autism… not stating exactly that one causes the other, or that you should stop taking vaccines… but that's the message that the public receives. The media doesn't help much nor does Wakefield in subsequent interviews.
1999
Thimerosal is removed from almost all vaccines in the US, except for some flu vaccines.
As a side note… Thimerosal was never in the MMR vaccine.
May 18th 2002
Jenny McCarthy's son, Evan, is born.
2005
Evan, 2, begins having seizures so severe that he's repeatedly rushed to hospital emergency. – http://www.time.com/time/magazine/article/0,9171,1968100-2,00.html
Evan is diagnosed with Autism at the age of 2.
Remember, Evan was 2 in 2005 until May.
2006
Jenny writes about her "crystal child" in Insights of an Indigo Mom: A Mother's Awakening… in which she writes about chain smoking and cheeseburgers up until his birth at which point she changed to Hepa air filters and eating vegetarian.
I wonder why she never blamed the chain smoking and cheeseburgers… also, one would wonder why she'd write about Cystal/Indigo stories if he was diagnosed with Autism 
2007
Jenny changes her story in May, saying that he's not really a "crystal child", he's actually Autistic. – http://en.wikipedia.org/wiki/Jenny_McCarthy#Activism_and_autism_controversy
She claimed that the MMR vaccine specifically caused his Autism… and began campaigns against Thimerosal despite the fact that it never contained Thimerosal and he was born several years after Thimerosal was removed from most vaccines.
Jenny goes on a book writing spree over the next several years, publishing several books on motherhood as well as "healing Autism".
2008
Jenny begins her crusade against Autism, becoming a spokesperson for Generation Rescue and TACA and appearing on several radio and television programs, including Oprah. Each appearance includes endorsements for her books.
Jenny also claims that Evan has "recovered"… which isn't the same as cured. But it doesn't stop the media from using that word a lot in articles about her and her son.
Jenny and Jim Carrey begin a "march on Washington" to "green our vaccines". When interviewed, Jenny claims that Evan was "undiagnosed with Autism".
Jenny also reinforces that she is not anti-vaccine but rather for safer vaccines and spaced out schedule. An excerpt:
Don't do more than one shot in a visit. Do you see what I'm saying? Not to not vaccinate. Space them out, ask for mercury-free. Make sure your child is not sick before you vaccinate. Your child does not have a good immune system. How is it supposed to detox the vaccine? Test your child for an immune system. Make sure they have really good glutothion. Glutothion is your body's naturally antioxidant to detox these things.
2010
Doctors and scientists start to question McCarthy and the diagnosis that her son received, claiming that his symptoms more closely resemble Landau-Kleffner syndrome… very similar to Autism but treatable. – source http://www.time.com/time/magazine/article/0,9171,1968100-2,00.html
Despite the possibility that he never had Autism to begin with, Jenny confirms that she'll continue to "be the voice" for the disorder. She also begins to realize that it wasn't really the MMR vaccine after all, stating that she just wants vaccines to be safer, rather than getting rid of them entirely.
2011
Jenny joins the Generation Rescue board in January.
Jenny speaks out in support of Wakefield, claiming "I know children regress after vaccination because it happened to my own son" and asking "Why have only 2 of the 36 shots our kids receive been looked at for their relationship to autism?"
One would wonder why there's any need to check the other vaccines if she's so certain it's the MMR.
Jenny continues onward, claiming that "kids do recover from Autism" as her son did, with a gf/cf diet and vitamins. Previous articles went into more details of his treatments including "a gluten-free, casein-free diet, vitamin supplementation, detox of metals, and anti-fungals for yeast overgrowth that plagued his intestines. "
What can we take from all of this?
Well, first, we have the fact that the blame she has shifts radically from Thimerosal (ethyl-mercury) to the MMR vaccine itself to the vaccine schedule (multiple vaccines at one time) to simply vaccines in general, asking for more research.
Secondly, she seems very conflicted about what exactly her child may actually have. First there's crystal child/indigo mom theories, then it's Autism and now there's questions of Landau-Kleffner syndrome which, from what I can tell in my research, she has never actually explored.
Third, almost everything she gets involved with seems to have a heavy self promotional feel to it. Many praise her for getting into the spotlight for Autism awareness but at the same time, there are many people who believe she does it simply to get herself into the spotlight. Most notably when she recently offered to pose nude once again for Autism awareness reasons.
Finally, and this is a big one… she has become the leader of the anti-vaccine movement despite the fact that she never once said she is anti-vaccine herself…. and in fact, professed many times to wanting more research, safer schedules and "greener" vaccines.
Much like Wakefield, who had his own patent for a vaccine as partial replacement of the MMR vaccine (who would patent a vaccine if he was anti-vaccine?!?), her concerns over vaccine safety lead to hysteria and paranoia among parents who now place their children at much greater risk than they ever were before.
In my opinion
Seriously, as others have said before… stop listening to a Playboy bunny/actress for medical advice. That's not to say that she's not allowed to have an opinion. She is… but she's doing the same research you are. She's not a doctor nor a researcher.  She's a mom just like every other mom and her opinion holds the same weight.
Also, stop putting words in her mouth that she didn't even say. She never said she was anti-vaccine and she never told you to not vaccinate. Don't tell me she did. Whether you hate me right now for writing all this or not, don't assume I haven't researched this. I have. I know she's "pro-safety" and not "anti-vaccine."
Lastly, and this is just my opinion… people of high influence, such as celebrities, should be very very careful about what they randomly put out there. These are our children and unless you are absolutely certain (and when it comes to vaccines, no matter what you think you know, you are NOT absolutely certain), you should not be putting fears and doubts and unproven concerns into the minds of people that could put themselves and their children at risk.
The point is, there is a chance that what you *think you know* may be wrong. There is an even bigger chance that the way people interpret what you say may be wrong.
The one clear message through this entire post, that I'd like for you to take from this is, Wakefield and McCarthy are not anti-vaccine!!!
Despite them both saying that they are for safer vaccines, they have not made it abundantly clear that they are not anti-vaccine.
Wakefield needs to stop putting out articles on studies, McCarthy needs to stop putting out articles on recovery and her own story.
What they need to do (if they insist on continuing) is write articles and do interviews that consist of nothing except them telling parents "Vaccinate your children! Do not withhold vaccinations. Vaccines save lives!" They need to explain their stance, clearly and definitively. If they are pro-safety and not anti-vaccine… then why are anti-vaccine activists praising their work?
If they have no intentions of making this clear, then they should no longer be in the media, in my opinion. Because the message they think they are sending is not the message that some parents are receiving.
This is the Jenny McCarthy paradox as I see it. On one hand, I respect her work to raise awareness. On the other hand, I despise the self promotion and her willingness to let parents continue to be anti-vaccine in her name.
Is it any wonder that people's opinions of her are so conflicting?