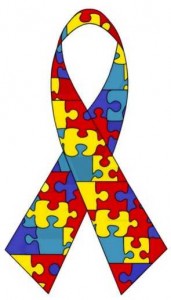 I have been rather fortunate to be able to write for not only my blog, but also some pieces for several other blogs as well. It turns out that writing is something that I rather enjoy and I can even be proud to say that I do quite well.
It occurred to me though, that not everyone is a great writer… or comfortable with public speaking… but that doesn't mean that they can't be a great advocate. Some people find some great ways to advocate while others still struggle to find what works for them.
So I thought I'd put together some thoughts and ideas in ways that you could help be the advocate you really want to be even if you have no formal training or previous expertise.
Every day life
Probably the most recognized and frequently used method for advocacy is simply to live life with Autism or with a child that has Autism. You'll find yourself explaining it to friends and family, you'll find yourself correcting others or volunteering information when people ask… sometimes you might even have to explain yourself or your child in a public setting if something embarrassing happens.
When you live it, you advocate it simply by walking out your front door.
Don't be afraid to answer questions, don't be afraid to offer information. You don't have to have all the answers, just your own experiences. Explain how it's not the same for everyone but you can offer your own knowledge on the topic.
People are very receptive, people are often very willing to learn. You don't have to advertise it but don't hide it either. When someone shows an interest, speak up.
Wearing Autism Merchandise
Wearing something on yourself is not only a subtle reminder to people but can be a conversation starter. There are a lot of choices, some people even opt to get a tattoo!
What ever it is you do, don't go overboard. The last thing you want to do is annoy people with it. So keep it smart, keep it clever and even classy if you can. Funny is good too but can be offensive to some if you're not careful.
Ultimately, so long as you're not annoying anyone… do what ever looks good on you.
Volunteer
Most charities and events are non-profits… meaning that they don't do what they do to make money, they do it to fund research or support families.
That means that they could really use the help, since they have no extra money to pay people. And usually it only involves and afternoon or just a few hours but your help would be invaluable.
In these instances, I like to think of it as the worker bee scenario.
Events, such as concerts, walks, bbq's, etc take a lot of people to pull off properly. Whether it's flipping burgers, getting people's names… what ever.
Each and every little job is not only important, it's necessary… and if they can't fill those spots, the entire event could be in jeopardy.
Your help, whether big or small, for hours or days, is a big part of it's success. If you can't afford to donate, if you can't be a public figure… just pitch in and help out. It's needed more than you know.
Local Support Groups
Every community, big or small, has at least one local support group. Those groups usually consist of people with valuable information that you can learn from but there's often people there that have no information, that need information… that feel quite lost and alone.
Someone at that meeting will likely step up and help those people out… that someone could be you.
You don't have to pay their mortgage, just help them to realize that they're not alone. Give them some friendly advice, a shoulder to lean on…. take an hour or two to be a part of a team.
You could learn, teach and grow, all the while making friends and maybe even new friends for your children.
Donate
So maybe you don't have a lot of time but you are able to muster $10 or $20 here and there… donate it. Keep the receipts for your taxes.
Charities do some amazing work but they don't do it all on their own. They need donations from people like you and me to fund the work they do.
Also, no matter how hard you have it, there is always someone or an entire family out there that has it worse. Those people struggle far more than you or I could even imagine and they need support far beyond what you or I could give them as individuals.
That's where charities come in. They pool those donations and build valuable support for those families using the donations from us all.
You don't have to donate hundreds, every little bit helps.
Take part in the events
I mentioned volunteering to help events run smoothly but it's also just as much of a help to actually take part in the event… like a walk or fundraiser.
The AutismSpeaks Walk for Autism events have proven very successful in raising donations as well as general awareness all over the world. And all you have to do is walk.
Several other charities and even just local businesses and people right in your own city hold events all the time. Find them, get involved. You don't have to work if you don't want to. Just be there.
In fact, you don't really even have to be there. Help get the word out about them. Tell friends, post to your social networks…. if you get 2 other people to take part in it, you've doubled what you could have done just by being there yourself.
If you do get 2 friends to do it and do it yourself too… well, you can see how something relatively small can grow to something very big and very worthwhile very quickly.
Make up something, do what you do best
As @OperationJack says: "Whatever you do best. For me, unfortunately, that requires running waaaay too much." He's a marathon runner. When his son was diagnosed with Autism, he decided to run to raise awareness as well as donations. He ran over 61 marathons in 2010!
Another Twitter member, @invisaWriter suggested: "if you know how to plan a killer party you could do fundraiser dinners, or maybe you can organize boxtops for edu. collections"…  not a bad idea!
Use your strengths… even if what you do has never been used for advocacy or fund raising before, try to put some thought into it. You can make it happen!
We're all equals
I often marvel at how public speakers can travel the country, helping people all over…. or at book writers who can produce amazing pieces of literature that informs and even inspires.
The truth is though, when it comes to being an advocate, we're all equals.
From talking to a neighbor about Autism to telling the country on national television, we're equals. We do the same thing… we inform. We have the same purpose, to inform.
The only number that is important to an advocate is 1. If you can inform 1 person, if you can open the eyes of just 1 person, if you can make just 1 person recognize the difference…. if you can inspire just 1 person to want to make a difference…. you've done your job.
Whether you write, speak, walk, donate, volunteer… what ever it is you do, your goal is to reach out to 1 person and have them understand.
If you can do that, do it again and again and again… always aim for 1. Before you know it, you'll have reached hundreds, maybe even thousands.
Ideas from you
I asked this on several networks, here are some of the responses I received.
Sometimes the most effective thing you can do is just be 'out there':
live your life openly, don't try to hide it or be ashamed of it.
It is what it is. You can also give moral/financial support to
others who can go out and speak, write books, etc.
Answering people's questions as they are asked. Wearing Autism Awareness
stuff, my brother got a tattoo to help raise awareness and has become a
conversation starter...
I've been helping make a local Asperger Support Group for Adults and
Children become a 501(c)(3) organization. A lot of work, but it's so
rewarding when we see the families we help!!
I agree, to speak up when people ask questions, to tell people about your
journey. I have been amazed and overwhelmed how people want to listen, get
involved and even donate money to try to help my son be able to speak! I
used to lock myself away and at one stage became very isolated and
defensive. I turned my life around when I took positive action to raise
awareness of autism and what I'd been going through, people all of a sudden
became understanding, supportive and encouraging! Search for Time to Talk
Liam on Facebook to see what ive been doing. People don't understand,
unless you tell them, it's just not possible for them to understand
without you telling them. I'll keep speaking out for my son, until the day
he is able to speak himself! And even after that too probably!!!
I'm an autism advocate in that I ensure that my daughter gets treated like
everybody else, no matter what I have to do. :)
If there is no local clearinghouse for info on ASD and how to handle,
start one.
Please feel free to share your ideas as well!