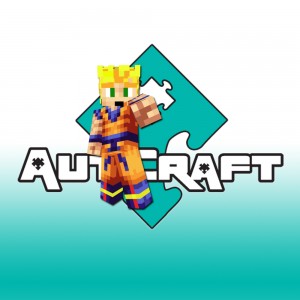 Let me start out by saying that there is no drama, no behind the scenes reasons, nothing that must have happened to set me off to do this… this is something that I've been planning and working towards for a while now.
Autcraft started as I watched more and more parents with children on the autism spectrum reach out to other parents hoping to find friends to play Minecraft with. Why were they looking for other parents? Well, their children first tried playing on regular servers like most other children but because they had autism, because they struggled with the social aspect of the multiplayer experience, they were bullied repeatedly everywhere they went. So these parents turned to each other hoping that their children could play together where they'd be free of such bullies.
Only it wasn't that easy. Sure they could find each other but there was still nowhere to actually play together. In order to do that, they'd have to both go to a server and as their experience had shown, there were no safe servers. I realized that I could help.
Autcraft was born almost a year and a half ago.
Now here we are with nearly 5000 people on the whitelist. To put that in perspective, that is more people than the entire population of the town in which my kids go to school. That's amazing! In a way, it's sad because to me that signifies quite clearly just how bad the bullying problem truly is. On the other hand, it's remarkable that there are so many great people that can all relate to each other and lift each other up.
From the very first day back on June 23, 2013, the demand and the pressures placed on me were much larger than I had anticipated. Hundreds of emails rolled in immediately. As celebrities visited, as people wrote about us, as the news picked us up… that only made the demand and pressure grow even more. In time, that demand grew even more as people started to come to me with their problems. Fights with others, bullies, depression, problems with parents… even suicide. I never said 'no' when someone needed me. I never turned anyone away.
I had lost count how many times I had to say "I can't right now" when my own children would ask me to come play with them. I had lost count of how many times I had to tell my boss that I had to go because someone needed me on the server and that I'd finish my projects a little later.
I woke up to dozens of emails, dozens of messages on our website, hundreds of Skype messages…. every single day. Each of them a problem. Small problems, big problems, trivial and truly significant problems… all of them, adding up more and more each day.
I never said 'no'.
Now, I'm not saying it was a thankless job, quite the opposite. I was praised. I was called a "rock star." People recognized me all over the Internet and said the nicest things. However, that too, comes at a price. The more people that knew me, the more there were people who needed to doubt me, who needed to believe I couldn't possibly be who I was. People who had to hate me either because I was too nice or because they refused to believe it.
Even some of the children that I had talked out of suicide several times would find themselves doubting me, throwing away all I had done for them the moment anyone anywhere said anything negative about me. I don't hold it against them, I truly don't.
Over time, all of this, all of it and more, grew bigger and bigger.
Now, I'm fine with it. All of it. Wait, almost all of it.
I have a good job, I have great kids. And I've been putting them on hold for Autcraft.
The kids that Autcraft helps… they are absolutely incredible and they are worth the demands and pressures and the time. But I have to put my children and myself first. I just have to.
So I worked hard to build up a reliable team, a strong team, a supportive team that can help the children, help the server, build like pros, get those children through anything and just do all the things that I did and more without me having to be there. And now, Autcraft has that team. They truly are amazing.
Now it's time to let it go. It's time to wake up without having to respond to hundreds of messages. It's time to go to bed at bed time. It's time to go and play with my children when they ask me to.
I will miss the server fully and completely. I miss it with all of my heart. But I have to let it go. 100%. Anything less would draw me back in. I can't say 'no' to someone that needs me. I can't turn away from people that need my help.
So I need to leave Autcraft. I need to leave it in capable hands. I need to take care of myself now.
Thank you for entrusting me with your most valuable treasures, your children.
But it's time for me to say good-bye.