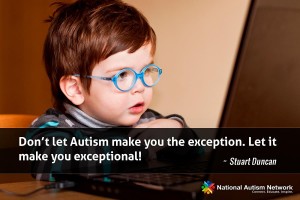 I have had the fortunate opportunity to be able to talk to a lot of children with autism, thousands. Many of those talks are about some very deep and heavy topics. But many of these topics are either not being discussed or not openly enough to where I have been able to come across them. I can only imagine that this means that people don't know these things. So, for Autism Awareness Acceptance Day, allow me to share with you what I've learned.
More Likely to be Bullied
I'm starting out with something that most people likely do know. In fact, there have been studies done regarding this. While the study does include some of the factors for why people with autism are more likely to be bullied, most people still ask me why this could be, especially on a Minecraft server where you can't really know that the other person has autism.
Well, you don't have to know how a person is different to know that they are in fact different, and to a bully, being different is all it takes. Many children with autism (or any other diagnosis) will behave differently in a social setting than their 'typical' counterparts. Whether it be obsessing over something, not understanding innuendo or sarcasm, using words or phrases incorrectly or being easily prone to emotional outbursts such as excitement or anger. All it takes is one instance of being "weird" in the mind of a bully to make you a target.
To be a victim of bullying is to be a victim of abuse. Whether it's physical (at school or in a playground) or emotional (online), the effects are damaging and can often do far more damage (trauma) than good (makes you stronger).
Likely to become a bully
Many of the children that come to my Minecraft server end up bullying others. They tell them what to do, they get angry when someone ignores them, they say the meanest thing possible when mad and even try to destroy other people's builds when angry. Why?
One of the reasons this happens is, as I said, a child with autism may be prone to emotional outbursts. This means that something that may seem minor to you or me may mean the world to that child. Or, maybe it still doesn't mean much to them but the 'act' was taken so personally that they felt very hurt by it. Often times the child will feel terrible after but in that moment, when that emotion hits, they lose control. This turns them into the bully that they hate and fear so much.
Another reason is that the bullying behaviour is all they've ever known and thus, how they think they should be. They spend almost their entire Internet experience being bullied everywhere they go and therefore, when they finally find a place that accepts them and allows them to play without judgment, they slowly revert to the behaviour they know… which is bullying. Even though they hated it, even though it's the last thing they'd ever want to do… it's all they know.
Finally, another reason may be that they've become so broken by the relentless judgments and bullying elsewhere that they have a hard time of letting go of their defensive posture. They've been attacked for so long that they see any minor disagreement or even accident as a personal attack on them. In most cases, they've had to fend for themselves and so even when they find a place where they can turn for help, whether it be my server or a school teacher or their own parents, they still feel that they're alone. Much like a soldier returning from war, having to fight for so long, it's hard to let that feeling go.
Explanations are necessary
Most children test their boundaries but at the same time, do as they're told because you tell them to. There's this relationship established automatically where you're the adult, thus you have authority and the child must do as you say. If they do ask why, often a "because I said so" response will suffice.
With children that have autism, not always but is often the case, that authoritative relationship is not automatic and quite possibly may never exist. Instead, the child will understand that you make the rules but feel no obligation to follow those rules unless it can be explained to them why it's a rule in the first place. There needs to be some reason for the rule that they will need to understand before they are to abide by it.
Instead of getting angry or trying to use force, take the time to explain why things are how they are.
More likely to seek friends
Most people in the world think that autistics are anti-social and would rather be alone all the time. While it's true that many with autism find it difficult and even painful to socialize, that doesn't mean they don't desire it. From what I've observed, most children are weary of adding just anyone to Skype or friends lists, or at the very least, only choose those that they've already talked to.
Many children with autism, on the other hand, are so eager to make and have friends that they will seek out and add anyone that will be willing without taking safety or security into account. This often gets them into trouble.
Obviously this is not always the case as some are quite shy, scared or so extremely cautious that they'd never add anyone to anything but in general, as I've observed, the children with autism will go to much greater lengths to seek out new friends than other typical children. Their need to socialize and have a friend far outweighs the pain and struggle that the socializing causes them.
The greatest punishment that you can never give
Guilt is by far the worst thing that any child will ever experience as a consequence of their actions but when it comes to a child with autism, that guilt can last them and be in their thoughts for the rest of their life. I'm not talking about how people say you can regret something for the rest of your life, what I'm talking about goes much deeper. Those with autism can pull up the heaviest, darkest feeling of guilt from something 40+ years ago in an instant for no apparent reason and feel it as though it happened an hour ago. That even plays out in vivid detail over and over again with no indication of stopping.
If you see this in your child or someone you know, believe me when I say that no punishment you can give them to "teach them a lesson" will come anywhere close in comparison.
It's in these moments when you need to be the voice of reason, the one to help them to not only absorb the lesson but to move beyond the guilt. Because if you don't, it will linger with them forever.
If you can remove that fear, progress becomes exponential
There is really no substitute for a caring and well trained therapist, professional and of course, parent but even when in the company of these people, a child will feel nervous, anxious and even scared. Afraid to do or say something wrong or nervous about not being able to live up to expectations. A child may just shut down or at the very least, not retain what is being taught to them.
I found a way to take all of that away and to allow children to talk and play and do things together all without any fear or anxiety. And from that, the truly remarkable happened… progress!
No, I'm not saying professionals don't help children make progress but I'm talking about massive progress, exponential progress on levels so absurd that the children are learning well beyond their years about things that no one is really even trying to teach them.
When you remove the fear of embarrassment, or teasing or bullying, a child will open up in ways that you could never imagine. They are free to indulge in what interests them without worrying that people will think it's silly. They are free to meet other people that share those interests! They are more willing to take in and process what others say as their minds become more relaxed and accepting of new information.
These children become hungry for more, pushing themselves to better equip themselves so that they can become even more involved in the conversations around them, to know as much or more than their peers and to share what they've learned without fear of someone saying that it's dumb, or they already know it or it's not worth knowing. They take the next steps on their own, no need for a push.
If you want to see a child with autism learn faster than you can teach, find a way to remove the fear and self doubt. Easier said than done, but if we can do that, there's no limit to how far they can go.
April 2nd is about far more than just diagnosis rate numbers
If you take anything away from this Autism Awareness Day or month, please understand this: many of the children in this world that have autism are extremely bright, they're very capable human beings that are very caring and passionate people that can exceed all expectations if only they could live without fear. But instead, many of them are dying, taking their own lives at very early ages under the heavy weight and burden of constant abuse that we attempt to make sound not so bad by labelling it as bullying.
Instead of being frightened by the number of people being diagnosed with autism this year, you should really be concerned about the number of children that will kill themselves due to fear, bullying and abuse.
Those are the numbers that scare me most.