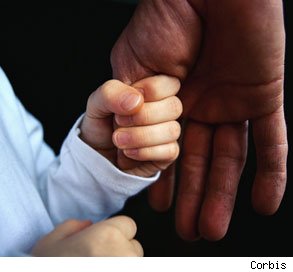 Every parent's wish is for their children to have a better life than they did… whether rich, poor, big family or small… we only want our children to get the most out of life, and to do so better than we did before them.
Not everyone has the same advice on how to do that and sometimes we down right disagree with others, that's fine.
So today, I am writing this for my two boys, Cameron and Tyler:
1. Risks
Through out my life, I've had a lot of my ideas pushed aside by family and friends that told me that they'd be too risky to try. Take the safe job, make the safe choice, don't speak up for yourself or you might lose something…  avoid risk!!
If I could go back, I'd tell myself not to listen to any of them.
Sure, some of those ideas were really bad ideas. Maybe some would have failed. Maybe even all of them.
Maybe some would have succeeded too though.
Either way, it doesn't matter… because right now, I wouldn't be regretting having not tried. To at least try means that today, right now, I'd have gained the experience that comes with trying. I'd be one step closer to knowing what things didn't work which would mean that I'd be one step closer to knowing what will work.
Maybe I'd have really really liked one of those things. Sometimes you never know you love something until you try it. Perhaps I'd have loved one of those things so much that the risk would have been worth doing it… and worth doing it again and again.
2. See things through
For all the things I didn't try, there were still things that I did try… things that required less risk, or no risk at all. The problem with those things was that I'd never see them through.
I'd start something and lose interest, get distracted by life or simply be unable to finish due to my own short comings. What does that mean? It means I didn't push myself hard enough to know how or to be able to finish what I started.
It is far worse to never finish than it is to fail and end with valuable experience.
3. Embrace the critics, ignore the haters
There is a very big difference between a critic and a hater.
Haters will do their best to tempt you into an argument or to spark your anger. Their jabs have no substance except to incite emotion.
A critic, on the other hand, may be harsh at times, but will offer real observations and sometimes even advice for moving beyond what is revealed in those observations. A critic doesn't care if you take their criticism or not; or if you get mad or not. They do not speak to anger. They speak to offer criticism. Listen to them. Learn from them.
Critics are the voice of your failures and failures are the experience you take with you when you do something better next time.
4. No one was ever able to stand out by blending in
If there is one thing that school pounds into you, it's to blend in. Do what everyone else is doing and they might accept you, be different and they will likely laugh or even bully you.
I'm going to tell you a secret that you might not believe until later… school doesn't matter. The kids at school don't matter. What you learn at school doesn't matter. Trying to fit in with all of that will only result in one thing… you won't matter either.
Be different. Be proud. Stand up and stand out and do it so well that people take notice.
When you think about all of the greatest people in the world, think about what they do to be the greatest. Do they try to do what everyone else is doing or do they try to be different?
Don't worry about better or worse. Because you will be worse. But you will also be better. That isn't what it's important. It's not always the best that stand out. It's not always the best that are remembered.
Just be who you are and don't ever let anyone tell you that you need to blend in. You do not need to blend in. Not in school. Not ever.
5. Don't let fear stop you
Dads aren't supposed to be afraid of anything, but we are. We're afraid of a lot of things. Sometimes the same things that you're afraid of. The only difference is that it doesn't let it stop us, or at least, it shouldn't. But even dads are human.
I've let my fear stop me a lot of times. Remember #1? Risks? That's what I'm talking about. When a risk seems too big, like I might lose a lot… I let my fear get the better of me and I didn't even try.
There's nothing wrong with being afraid of the risk. There's nothing wrong in being afraid of anything. But don't ever let that fear be what stops you.
Let me put it another way, maybe you're thinking of doing something really big but the risk in doing it isn't worth the reward. That's fine. Don't do it. You're smart. That's entirely different than not doing something because you're afraid.
There were some things that I was smart to walk away from. Then there were also things I walked away from simply because I was afraid… that's not smart.
6. Go for what you want
Figure out what you want. Figure out how to get it. And do it. No matter who says not to. No matter what the risks are. No matter how afraid you are. No matter who might be looking and thinking you're strange for wanting it.
Do it. Do it for me. Do it for yourself.
You're already a better person than I am. You have a much better life waiting for you than what I had. You just have to step up and do it.
From Dad
I am writing this for both of my sons, Cameron and Tyler.  It doesn't matter that one has autism and one does not. This advice applies equally.
No two lives are the same, no two journeys are the same. That's how it is supposed to be, with or without autism.
Do these things that I could not and you will be happy, I will be happy too.