I have an idea for HP and their TouchPads, but first…
First, a bit of back story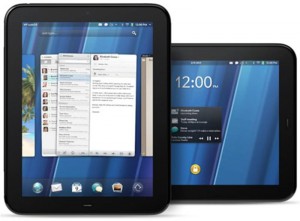 Recently, HP found that their sales of the TouchPad tablet were less than satisfactory and decided to scrap the whole project. Not just the tablets, but their entire computer making efforts… computers, tablets.. the works. To prove their point, they dropped the price of the TouchPad from $399 to just $99 to get them out of the stores.
Not only did they go out of the stores, they left burning trails behind them (you know, because they left so fast). People scrambled like mad to get themselves some discount technology.
As a result of that, plus, some rumours of a need to use up remaining inventory and parts and such… HP announced just a couple weeks later that they'd make some more TouchPads for sale in the last part of this year.
My Proposition
One would assume that HP is going to be selling these for $399, or at the very least, higher than $99. They can't possibly be intending to run all this manufacturing to churn out tablets that will make less money than it costs to make.
If that's true, and keep in mind, I have no background in business or marketing or anything but, wouldn't that be some really bad business thinking? To take a tablet that couldn't sell, drop the price insanely low so that the people that did want one got it… and then to put more out there right back at the same price that they were before and didn't sell?
My idea is this… donate them to special needs programs/schools. Or at the very least, sell it to them at a great discount.
Did you know that Apple used to market their computers to schools? They even donated (and still do) old computers that were used or no longer current to schools that could use them.
Not only is it great for public image, not only is it great for the company (donations are always beneficial) but when you think about it, how brilliant is it?
Well, think about all of those students using those machines for several years… when they need something similar at home, what are they going to use? When they graduate and need to use a computer.. what will they want to use?
Granted, that's not really the focus for HP since WebOS probably won't be around much longer nor will HP's computer/tablet devices. But still, the idea is sound.
Special Needs schools, teachers and students need your help
Special needs schools have very little funding… certainly less than colleges. There is simply never enough money to get all of the supplies they need, sometimes they even can't take as many children as they'd like.
And if there's anything we've learned since the release of the iPad, special needs children can work miracles on a tablet!
They learn quicker, more easily and generally have more fun doing it when they have a device that they can touch and interact with.
I believe the number of apps on the iPad makes it the best choice but not the only choice. Any tablet would work.
If a school was given tablets, they could even hire developers to make what they need… since they could divert some funds from other supplies which would no longer be needed due to the tablets.
Please consider it
You'd be helping the special needs, helping the future and best of all, putting these devices to the best possible use they could ever have.
Don't put them on a shelf where they'll sit until you're forced to drop the price again.
I'm not asking for me, I don't need one. I'm asking for the community, for many communities… for the future.
Do something really great with this. It's your moment to really shine.
If you work at or are involved with HP, thank you for reading.
If not, can you help me in getting this message to HP? I'd like for them to at least consider it. Thank you!