Imagine you're talking to a group of people about disabilities. One person says to you that disabled people should be force fed what ever cure or treatment is available so that their hard earned tax dollars are no longer burdened by having to support those people.
What would you say?
"No moral right to refuse a cure"
While in a heated discussion on a blogs comments, two people exchanged opinions where one person, nicknamed "taxpayer" replied with this:
M@"Does focusing on access barriers rather than cure make a wheelchair user less of a stakeholder in discussions re physical disability?"

From my taxpayer perspective the answer is No, they don't have a right to be there. No one has the right to refuse a cure or a treatment that would make them less needy of state-sponsored services.

I would much rather see my tax dollars going towards a CURE, I would rather be paying to ERADICATE autism than paying for your wheelchair access barrier and many millions of wheelchairs to come.

So yes, unless a disabled person is financially and physically independent they do not have moral right to refuse a cure or treatment. And they especially don't have any right to sit on a panel that was created to COMBAT that disability.
Sorry, I'm not going to link to their blog so you will either have to find it yourself to get full context (does context really matter for a statement like this?) or just take it for what it is.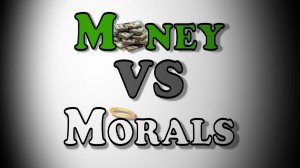 To paraphrase, and I don't think I'm far off here, is that this hard working taxpayer feels that their valuable dollars are going to people who would rather keep needing more tax dollars than be cured and stop costing the system money.
From a strictly greedy, selfish, inhuman and egotistical point of view, this reasoning is actually quite understandable.
Still though, it doesn't explain the "moral" part, does it? What does money have to do with morals? What does saving a buck have to do with morals?
Allow me to paraphrase once again, keeping morals in mind, just so that I can make better sense of this: "You and/or your child should not be allowed your basic rights nor have freedom of choice as it interferes with my wallet."
Morals? All I see is irony.
How to respond? Let me count the ways!
So I got to thinking about how I'd respond to this person. I know from past experience that any response, no matter how articulate, compassionate, informative or insightful would basically fall on deaf ears. Excuse the disability pun. And the irony. Again.
I decided to do away with responding from my heart. I figure that this person would actually require one to be able to understand, much less relate to, my thoughts on the subject.
Instead, I figured it would make far more sense to appeal to their tragedy. They are obviously very hurt by this.
So here is my response to Mr or Mrs Taxpayer.
Dear "Taxpayer",

My child was born with a disability and our entire lives are affected by it. There's going to be some struggles just about every step of the way and yet we never get down or negative about it because we just love him so very much.

But please, tell me about how burdened you are by paying the same taxes I am. That must be devastating for you. Is there anything I can do to help? I hate to see you suffer so.

Sincerely,
A taxpayer too, but with a heart.
I would love to hear your responses to this person. What would you tell them if you could say just one thing to this person?
For more on this:
The disabled don't have a moral right to refuse a cure or treatment?
You have no voice