While many parents feel a great deal of pain in accepting the reality of a birthday party-less life for their autistic child, I have found that there are in fact some parents, a small number, that just don't seem to get it.
The usual problem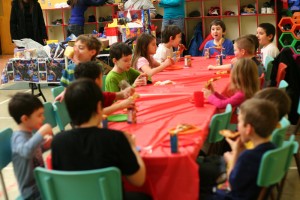 The problem that most autism parents face is isolation… that feeling you get when your child is never invited to birthday parties. The parent feels this through osmosis, meaning, they feel isolated because their child feels isolated. They know that the question is coming one day: "Mom/Dad, how come I never get invited to birthday parties?"
It's a terrible feeling, and not just because it is saddening, but it's also maddening. Because deep down, you know the reason. In fact, in a way, you probably don't even want your child to go to those birthday parties. So loud, so bright, so much excitement, socializing, awkwardness…. yes, for many children with autism, it's far more a nightmare than a dream and yet… the child doesn't know that. They just know, or one day will know, that they are missing out on a world of fun.
And so, as a parent, you are left with a twisted up stomach, knowing your child feels alone, knowing your child feels like they're always left behind, knowing that one day your child will ask you and knowing that one day, you'll have to answer.
The unusual problem
In my son's (Cameron) case, we don't have the usual problem because of the great school that he attends. He is in a "regular school" but they have dedicated 5 classrooms to children with autism, which means that his friends all have autism as well.
So when his friends have a birthday party, he's invited. Or when he has a birthday party, he has friends to invite. It's actually pretty awesome in many respects because, not only are they not missing out, but they're gaining those valuable party skills that they'll need in college (hey, I can dream, can't I?).
Here's the thing… even though the other kids in all of those 5 classes have autism, not all of their parents really "get it". What I mean is, they don't realize how lucky they are to have their kids going to birthday parties.
The problem that I face, is whether or not to invite certain other autism children from those classrooms. They're the ones that easily meltdown, easily get aggressive, have little verbal ability…  you have to understand, they're great kids and I love to see them when I stop in at the school, but it's obvious that they will need some extra help and attention at a place like a birthday party.
What I expect, and this is probably where I am going wrong, is that their parents would understand this and do something as simple as… stick around. You know, go to the party and be there with their child to help out should a meltdown occur, to say to me "oh, don't do that because my child doesn't like that" or "my child can't eat that"…  stuff like that. I don't mind changing things up on the fly, I'm an autism parent too!
But they don't do that. They leave.
And to be fair, I'm not talking about the parents who honestly and truly have something they need to do, like work. But the ones who see it as a break…. a chance to be free.
It's not a chance to be free. It's a chance to learn valuable socialization skills. It's a chance to do something that many other children with autism can not. And this parent is taking it for granted. They're taking advantage of it.
What to do?
So at my son's next birthday party, I have a choice to make.
Do I invite that child even though I know that things could be… well, let's just say, more of a struggle?
Should the child miss out because of their parent? Should the child be punished? Or, would it be more of a punishment to actually invite the child to a place that he/she won't be able to cope with? I mean, if I don't invite the child, the child stays home with their parents, where they're comfortable and at ease, right?
I'm not really sure what the right answer is… all I know is that it would be so much easier if the parent just took it more seriously. If the parent would see it for what it is.
To those parents:
Don't make me have to choose whether or not to invite your child just because you can't be bothered to stick around.
Birthday parties aren't the same for you or I, compared to "other parents". Not for the person throwing the party nor for the parent of the child that is invited.
I'm sorry that it's not happy, fun, break time for you like it is for other parents. But that doesn't mean that it can't be a really great time.
You need to step up.