A couple of days ago, my wife and youngest child were out of town, leaving Cameron and I to play video games and spoil ourselves with treats.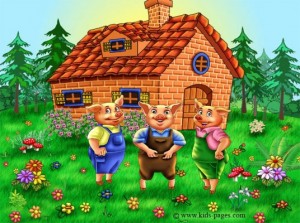 I'm not sure if it's just because it was the two of us or if he was just in the mood for it but at a completely random point in the day, he decided to tell me about the three little pigs and the big bad wolf. While telling me the story, he suddenly stopped and said "Dad? Can I talk to you about the pigs feelings?"
If you have a loved one with Autism, you can imagine how off guard this caught me.
Luckily, I didn't have to do a lot of talking, he took over. He explained to me how mad the pigs would be, he explained to me which ones would be happy.
My first thought is on how proud of him I am. That he's working so hard to understand the feelings of others… more so, feelings of three little pigs who, after all these years of being in this story, no one has ever stopped to think about their feelings. He's trying to understand, he's trying to know why.
The more thought I put into it though, I begin to realize what a true testament this is to his teachers at his school as well as to my wife, his mother. While it is true that he'd never reach this point unless he wanted to and was ready to… it's also true that he wouldn't be acquiring the abilities nor desires to reach these milestones if it wasn't for the hard work of those who work so closely with him.
If you know my story at all, you know that my family picked up and lost virtually everything to move here so that he could be at this school… and in all he does, I know we made the right choice. But in little moments like this one… where he completely catches me off guard… I know that it was the best choice we have or could have ever made.
To my wife Natalie and to the wonderful women at Cameron's school that are doing so very well with him, thank you so very much.