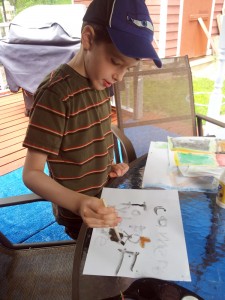 We made the decision to move pretty far away from my family before Cameron was old enough to start school, in an effort to get him into a school that would suit his needs rather than force him to conform to the needs of a school around here.
It was a big move as it meant separating my children, and myself, from my family. It's an 8 hour drive so it's not so far that we never see them but it's far enough. Plus with extreme weather conditions where we moved, we basically only get to see my family once a year.
A year isn't really much to me or my aunts, uncles or my mom… because we're all adults. But to a child that is only 6, or 4, as is the case with Cameron's little brother Tyler, a year can make a huge difference.
There's extra inches, there's maturity in their face, a wider vocabulary, a better sense of humour and in the case of a child with autism, like Cameron, there's progress.
Yes, Cameron is taller and smarter now but it's the fact that he's willing to actually talk to people that really shocked my family. Not just talk but have real conversations.
That's thanks to the hard work of his great teachers at the school, his therapist, our own hard work at home and of course, Cameron's very hard work to be willing to put in the effort to try. If he didn't want to, and I'm sure a big part of him did, he could have just shy'd away and refused to talk to them. But he didn't, at least, most of the time anyway.
More so than that was his need to get changed in the bathrooms, not wanting anyone to see him naked. At 6, this probably should have happened earlier but as a child with autism that is not overly fond of wearing clothes as it is… it's really a very big deal.
It's very gratifying, as selfish as that is, because it justifies, at least to me, our decision to take our family so far away. And my family sees that and understands our decision. They understand why it is that they now only see us all once a year. I mean, they understood the decision when we made it but now we have results.
And I'm proud too. Not of my decision or of myself but I'm proud of my son. I'm proud of Cameron for making that effort to talk to people and even play with them sometimes. To get off the couch and go outside to play with the other kids a couple of times.
I'm proud of him for making so much great progress so that when we do see my family, he can impress and even amaze them.
Not every parent is able to pick up and move and certainly, not every parent sees these kinds of results from year to year… so I'm so much more grateful than any words I write here could convey.