My son had quite the meltdown yesterday when it came time to turn off his game. It was a combination of losing, his cousin not doing what he wanted and being told it's time to turn it off. It was just too much… when he broke the game remote and started calling everyone the worst words he could (stupid and dumb are about the harshest words he knows) is when I had enough and gave him a time out in his room.
Don't make any mistake, this was quite the meltdown and I didn't get mad… I just removed him from the living room to give him time to cool off. That's when he yelled back that he hates me.
Now, I tweeted about it shortly afterwards… not that it hurt me, but that I it happened. In my mind, it was as if I had finally joined the club… because most parents have heard this from their children… Autism or not.
Children in general have no filter on the things they say. They don't know what "pushing it too far" is… they just know they're mad and they need to express it in the loudest, most hurtful way they can. It's only in time that they learn (hopefully) how to dial it back, how not to say things that they don't really mean just because they're filled with so much emotion.
We as parents can't take it personally… we all know that it's simply a reaction and that once they do cool down, all will be back to normal.
However, it can be a bit more extreme when Autism is involved. The yells are louder, the rage is more intense, more things are likely to get broken and in some cases, someone can easily get hurt.
After I tweeted, a lot of parents tried to console me… telling me it's ok, he still loves me… which I shrugged off. I tweeted it with pride, not pain. I wasn't proud exactly, wrong word, but as I said, I felt like a part of the club now.
Anyway, upon reflecting on it, I get why they consoled me. As fellow parents of Autistic children, they know just how hard it can be… more so than other parents.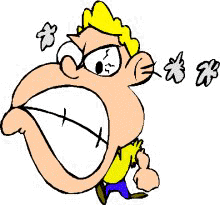 When a toy shatters against the wall or… in this case, a game remote breaks as it's slammed onto the ground, you can start to feel a little bad as a parent. You start to picture movies where troubled families have troubled kids who break things, become bullies and eventually put on a mask and go around killing people. Yes, I watched the Halloween remakes recently. Anyway, I digress…
More extreme or not, harder or not, our children still love us and I still feel like I've just graduated into the next level of the group. I don't need consoling but I do appreciate the support… so very much so. Because that's what our community is all about and it's truly wonderful to know it's there.
When your child first tells you something hurtful, and they will, you don't have to share it with pride and you certainly don't have to share it because you feel hurt.. but share it anyway. It's a very heart warming feeling when you get that little reminder that there are some truly great people out there that waiting for you in that new group you just joined.