Recently, Rob from Lost and Tired wrote a blog post called "We're on the same team….right?" which, the title pretty much speaks for itself. And I've often written about how it seems that no matter what you say, someone will object to it. Someone will be offended and someone will hate you for it.
Sadly, that's just the reality of putting yourself out there. People have differing opinions, and the more readers you get, the more likely you are to find them.
However, more and more recently, I've been encountering people with Autism that feel that no one has a right to even mention Autism without having Autism themselves.
Who has right to talk about Autism?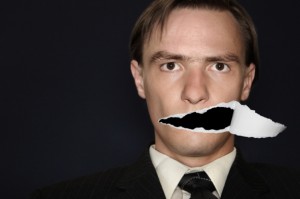 In the post I mentioned, one person commented, basically stating that if you don't have Autism, you can't talk about it. If you went to check it out, you saw my reply, which wasn't very professional but as I wrote and wrote, I quickly realized that I couldn't possibly fit all of my thoughts into one comment on a blog post.
The comment in question is this:
i have the exact same issue – to me – people who DO NOT have autism have absolutely NO RIGHT to OPEN THEIR MOUTH because they do not have it themselves – and do not know crap about what it is like to have the condition, the social rejection of it, and so much more that it makes my head spin. i have the exact same issue with people who go to college to teach special needs / special ed when they ARE NOT special needs themselves !!!
I don't know if he was being serious or referring to how some people have been in the past, but I have encountered this sort of thing enough myself. So either way, I thought I'd write about it here.
While I do understand the sentiment, I do understand where this person is coming from, I also can't help but think that this is extremely counter productive, hypocritical and even rude in a way. Now don't take the last few parts and skip the rest, as I said.. I do understand where he is coming from and why he'd say it. I just want to be able to explain why that's not a healthy stance to take.
Parents
First of all, to tell parents that they can't speak for their children is likely to get you into a lot of trouble. Parents are very protective of their children, it's an animal kingdom thing, it's instinctual and no one had better tell a parent that they have no right to speak up or protect their child.
I want for my child to not be bullied, I want for people to accept my child for who he is, I want for my child to have a fair chance in school, work and life in general… I want the best possible life for my child.
To tell me that I can't try to speak up for that, simply because he has Autism and I don't, is a bit rude.
Am I to sit on my butt, let him be bullied at school, learn nothing and have no help…. and just hope for the best? Because I have no right to speak up?
Understanding and Acceptance
The whole goal of raising awareness is such that people that know nothing about Autism can not only understand it, but also come to accept the people that have it. Meaning more jobs, better services, less judgments.
But how can people be expected to do that if they have no right to ever discuss it? How can there ever be an understanding? If only autistics can understand it, then there's no point in explaining it or raising awareness of it and if there's no point in that, then there will never be acceptance.
True, most people will never truly understand and it's also true that most people will never fully accept it… but is that really what is needed? Or is it good enough that people understand it enough to be more accepting, enough to stop judging those that are different… enough to stop bullying or denying them based on what they don't have and may never fully understand?
No thanks, I don't need your army to win the war
While I do rather hate the war analogy that some people make in reference to Autism (usually in reference to pharma companies), but in this case, I think it fits… in the war on awareness, understanding and acceptance.
I mean, think about it. At 1 in 110 (or so, depending on where you are), you have a relatively small portion of the population fighting for services, acceptance and a fair chance getting what others take for granted, such as less judgments, struggles, bullying and so forth.
But if you could recruit your parents, grandparents, other loved ones, friends, family, charities, teachers and others to help you, to fight with you…. wouldn't you want that? In fact, wouldn't that be exactly what it is that you're fighting for?
Not for them to necessarily understand "exactly" what you're going through but to support you, to back you up and to speak up to reach all of the people that you can't reach yourself?
Neurodiversity
One time, a person with Autism suggested (more or less inquired really) if it would be a good idea to have two groups, one with Autism being self advocates and one for others, such as parents. Which, on the surface makes some sense as people with Autism feel as though they're foreigners to us and we can't possibly understand exactly what it means to have Autism….  however, I feel that it kind of defeats the purpose of neurodiversity.
The whole point is, I think, to bring different people, who think diffrently, together and be considered equals with differences. That we accept each other, without judgment, that neither is superior, neither is inferior… we're simply the same but different, if that makes any sense.
So to split us up based on our differences, in an effort to unite us… seems counter productive.
Awareness for all
To achieve the goal of learning about Autism, in understanding how it affects people (quite differently I might add), how to reduce the bullying, judgments and struggles of people with Autism… we must all speak out.
Positive, supportive and unified. Working together toward a common goal.
If you have Autism, you have to remember… that special ed teacher that speaks up, that parent that fights for services, that charity that raises money… it's for you. It may be misguided sometimes, it may be without a complete understanding and it may even be wrong in some cases, but it's the best they can do, for you and for all with Autism… especially their loved ones.
We all have a right to want what is best for the ones we love. We all have a right to wish for less hunger, less war, less racism and all of the things that we, as humans should be over by now. That includes discrimination towards people with special needs.
Whether we are in war, starving or are disabled ourselves… we all have a right to speak, because if we don't, we are nothing.
What I'm trying to say is…
While I do believe that we all have the right to fight for what we believe in, especially when loved ones are involved, what I'm really trying to say is…. please don't shut us out.
Please let us help. Yes, we'll falter along the way… we're not perfect and, as is abundantly clear, we can't possibly know what it's truly like.. however, as parents and loved ones, we're the closest thing you have for bridging the gap between two groups that really never should have been separate groups in the first place.
Don't ask us to hope that our children will one day be able, willing and strong enough to fight for acceptance. It's our greatest wish that one day, they will… but we can't possibly put that burden on them… especially if we spend our time together on the sidelines. If we are unable to speak, that is what our children will learn from us. If we are unable to stand up for what we believe in, we can't possibly force that responsibility on our children.
Autism is your world. My child is my world.. and my child has Autism.
Let us help our children. Let us help you. And forgive us our mistakes.