I often hear people talk about how important friendships are, to have friends, to be social, to interact with your fellow human beings.
Sometimes I question this because really, who says that you have to? Who says that some people can't be much more content just being by themselves, doing their own things. Who are we to tell others what they have to do or what they really need in order to be happy?
Then, there are those people with Autism that fall all over the spectrum…. some who want friends but can't make any, those who want friends and get friends but still feel like they can't, those who do not want friends at all and have no friends and even, strangely, those who do not want friends but always seem to end up having friends.
It is a spectrum after all.
Pushing your child into friendships
If you're in the "must have friends" camp, do you push your child into situations to make friends? Do you tell them that they have to try to be friends? Do you find that your behavior or things you say may make them have the same "must have friends" beliefs you do and if you do, do you think that it might just set them up for depression when/if they are unable to make friends?
On the other hand though, if you don't push them… perhaps they never will make friends, when in reality they really wish they could. Autism presents a pretty large barrier in the way of fear, miscommunications and more that make is very difficult to make friends.
Perhaps your child may even feel that they do not need or want friends but simply does not understand the benefits or positives because they simply have not had a friend before. Maybe they will be much happier when they eventually do have a friend.
The one thing that is for certain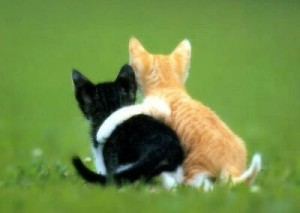 I can tell you one thing with absolute certainty… if your child struggles to make friends, but wants to make friends and does have a friend… you had better set aside time and find a way for them to get together.
Your children will have a lot of things and people in their lives that they will feel are important but if they have to deal with the complications that Autism presents, they are going to need the extra time.
Friends can be very rare to a child with Autism, friends can be rare to some children in general. And if they require that kind of relationship, if they get really sad because they have no friends, then you, as the parent, are going to have to give up some of your time to let them play.
You'll have to brave the weather, give up a movie… what ever you have to do.
Being friends, like everything, takes practice. Communicating, sharing, taking turns, imaginative play…. everything that you can imagine about being friends… takes practice.
And the more practice you get, the better you become at it. Not only to become better friends but to make more friends.
Cameron and his friends
Cameron had a couple of friends, sort of, in his first year of school but really, they were more like people his age that he felt more comfortable with than the others. This year though, he has a couple of friends in his class that he actually identifies with and enjoys having with him.
He not only desires their company but he needs it. This is a huge blessing because, while I wouldn't really mind if he had no interest in having friends, I, myself, am happier that he does like having friends.
He is so happy with them. He is so happy when he knows he'll get to see them.
And we're more than happy to accommodate him as much as possible.