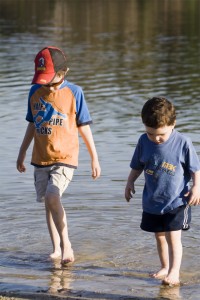 My boys, Cameron (7 with autism) and Tyler (5 without autism) often have conversations about when they were babies. They're obsessed with talking about what they did as babies or what babies do and at what age they started doing things.
This morning, we were talking about an old television show that we all used to watch when they were babies and the strangest thing happened… Cameron was convinced nothing had happened before Tyler was born. In his mind, he was always and will always be 2 years older than Tyler and therefore he could not have been around at all until Tyler was born so that he could be 2 years older.
It's a weird one to wrap your head around but in a weird way, from his point of view, I sort of get it. He relates almost everything in his life to how old he and his brother are. Because he's 2 years older, everything he does is at a higher level or done sooner. But always with his younger brother.
So when I tell him that he was 1 and we would snuggle on the couch to watch television, he asks where Tyler was.
When I explain to him that Tyler wasn't here, he wasn't born yet, he didn't exist yet… I get a chill from the emptiness in Cameron's eyes as he looks at me like I had just explained quantum mechanics to him.
He doesn't understand it at all.
Now death? Death he gets. You're here… and then you're not. You stop existing. You go to heaven, you go to sleep forever, you just blink out… what ever. I don't think he's given it much thought but he understands that once you're dead, you're gone.
But to not exist before you, well, exist, is an incredibly difficult concept to digest. How can that happen?
I think it's especially difficult in that they're 2 years apart, making it impossible for Cameron to remember life without Tyler.
It's not like a quick birds and the bees talk can fix that either. Because in his mind, Tyler was and always will be there. Whether he's satisfied with "he was still in mommy's tummy" or not comes and goes but for the most part, I don't think I can ever convince him that we did things before Tyler ever existed.
The scientific, logical side of me wishes that I could explain it better or help him to grasp it better or even, which is wrong of me, that he could be smarter so that he'd get it. I know he will one day, 7 is still young but hey, we wall want a Doogie Howser for a child.
But the more emotional, sentimental part of me is quite happy with him thinking of his brother as always being there. They've always been together and hopefully always will be. To him, there is no life without his little brother and I'm quite fine with that.
If Tyler had to be -2 when Cameron was born, then so be it. So long as they're in each other's lives.