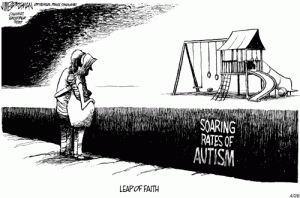 Autism awareness, I think, comes at a price: Fear.
Don't get me wrong, there is a very real need for awareness. New parents that know what signs to look for can get a diagnosis for their child early enough to begin therapies in the very earliest stages of life which, as we all know, is the best shot that the child will have at growing up to be fully independent.
However, awareness also makes new parents afraid. It gives them reason to question whether or not ever even have a child. It brings them great sadness and despair as they look towards the future with more uncertainty than ever before… and all because of autism. Many parents are even afraid to vaccinate their child, risking exposure to debilitating or even terminal illnesses rather than risk the possibility of autism.
I just recently received an email from a new mom, her 2 year old being recently diagnosed with autism and another baby on the way, is scared to death as doctors throw %'s and other facts at her about what the likelihood is that her second child will also be autistic. She hasn't even had time to get over the grief, the guilt, the feeling of being so alone… and she's thrust into the uncertainty of what may or may not happen with her new baby.
Having a child, it's the most magical thing there is! It's that happiest moment of a person's life. It's the biggest cause for celebration and elation. It's something to be excited about, enjoyed and savored.
Instead, this mom and many like her are afraid. They fear the %'s. They fear the risks. They fear the uncertainty. And worst of all… they fear who their new baby may be. They fear their own, unborn child.
I can't even begin to tell you just how wrong I feel that is. I can't even begin to put into words just how much it hurts to think of parents feeling this way when it should be the best moment of their lives.
It's because of autism awareness. That great deed we're all doing by making people aware.
Sure, it's mostly the media to blame, in making autism the most feared "epidemic" since polio. Even the charities, the ones that are supposed to be helping people, aren't helping much by supporting studies that try to find some cause and furthermore, some way to prevent it. Those dollars could be better spent in educating new parents and in reassuring them that help will be there for them when and if it turns out that their child does have autism.
How many children were never born because their would-be parents were afraid? How many laughs were never laughed? How many first steps were never taken? How many lives that should have been… weren't? And because of what… fear?
It's our duty to not just make people aware but to support them in advance. To let them know that whether their child has autism or not, whether it feels like it or not, they are most definitely not alone.
Don't just "light it up blue" and think you've done your part. Don't just write a blog post spouting facts and figures. Don't just share a tweet or a Facebook status and call it a day.
This April, for autism awareness month and Autism Awareness Day, don't just be content with the same old stuff that everyone else is doing.
Instead, picture a friend or a family member or even just some random person out in the world somewhere that is considering having their first child and then think about what you would tell that person to reassure and comfort them, not scare them.
I'm not talking about only sharing 'feel good', uplifting stories or trying to paint everything with a rainbow glitter brush but rather to not just paint everything black. There are risks and there are facts and figures. But that doesn't have to be all a person hears. It doesn't have to be all gloom and doom.
Think about what you would do if it was "Autism Acceptance Month" instead. You would still share the numbers but your over all message might be a bit less scary than if awareness was your only goal.
The reality is, a child is a child, beautiful and innocent, with or without autism. And that's cause for a lot of happiness. With or without risks, embrace that new life and rejoice in all of the happiness it will bring.
And if your child is autistic, I can tell you that, yes, it will be hard at first. But you won't love your child any less. In time, your child will show you a whole new perspective on the world that you never dreamed possible. And one day you'll look back and understand why you were afraid but tell yourself at the same time that you made the right, and best, decision of your life. Because your child really will be that important to you.
Please don't fear autism and certainly don't fear your own child.