I really had thought that I was done with the topic of "person first language". I really had thought that I had said all that I had to say. But then last night, someone said something to me that brought me right back into it.
I tweeted this "People with Autism are not damaged nor defective. With your understanding, acceptance & guidance, their potential is unlimited."
This prompted one parent to respond in agreement but also added in this: "my son is not autistic he has autism"
For some reason, this response kept me awake last night.
Do you truly accept your child?
I've never been met with person first language in agreement to understanding and acceptance of a child with Autism… somehow, it just really struck me as odd, like it was contradictory in some way.
All I kept thinking was, if you truly understand your child has Autism, if you truly accept that your child has Autism… you'd have no problem with saying that they are autistic.
What is acceptance?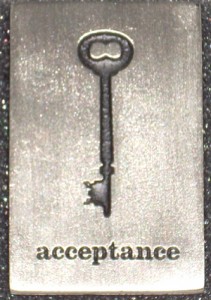 Acceptance is a funny thing, because it tends to mean different things to different people, or have different meanings in different situations.
For example, when my son was diagnosed with Autism, it took a little while for me to fully accept that diagnosis. I had to accept that he had a disorder, something that I couldn't fix.
It wasn't until much later that I had to accept that he had Autism. While it sounds like I had to accept the same thing twice, it's very different.
I accepted the diagnosis the first time, but then later I had to accept the fact of life, the fact that his life was going to be different, that I'd have to parent him differently, that there would be very different struggles for me compared to other parents I know and more so, to accept that my child was going to be different.
I had to accept that Autism was a part of who he is. I had to accept.. that he was autistic.
While some people think they have accepted the same thing I have, they may actually be referring to one instance of acceptance while I am referring to another, even though we may both think we're talking about the same thing.
The funny thing about perception
It occurred to me that when a person pushes "person first language" on others, it's because they do not fully accept their child. Well, more to the point, they don't accept the Autism that is within them. To them, the person and the Autism will always be two separate things. That the person can't be autistic because that would be accepting that Autism is a part of who they are.
So I asked myself why that is… which lead me to think of it another way.
What if that person had natural born artistic ability. Would that parent refer to their child as "a child with art" rather than an artist?
What if that child had a natural born aptitude for math? Would the parent refer to their child as "a child with math skills" or a mathematician?
What if the child had a natural born ability to play music? Would the parent refer to the child as "a child with musical ability" or a musician?
Then it dawned on me… it's because the parent would accept those skills… those "gifts". Those are all clearly good things. There is no negative implications what so ever in regards to having those things be a part of who those children are.
But with Autism, there is a negative. There is a down side.
Nonetheless, Autism is still just as much a part of who that child is much like the art, math or music… in fact, I'd argue that Autism is more a part of who they are. Autism affects every aspect of a person's life since, in reality, it affects all aspects of a person's input, output and interpretation of the world around them.
But it's often negative. It's not often thought of as a gift.
And so, it's not as easily accepted. It's not as easily made into an adjective… like musician is.
We don't see a child and his musical ability as being separate, even though playing music is just an ability.
Meanwhile we do see Autism as being a separate entity, as not being a part of them, because it's a disorder. While in reality, this makes it more a part of who they are than any one ability does.
What about those with Autism that use person first language?
There are some people with Autism that use person first language because they hate how Autism has affected their life. They hate how difficult it has made things that every other person takes for granted. They hate how Autism has made them feel like an alien on their own planet.
I can understand that, I can sympathize. Still though, I think I could also argue that we have all felt that way at some point. Not to the same degree and not all of our lives, but at some point. Most likely when we were awkward, rebellious teenagers.
Anyway, the point is, while I can understand that feeling and the need to reject the cause of such heartache and struggles, I would also argue that at some point, that person could come to terms with their weaknesses, empower their strengths and move forward if they learn to love who they are, learn to love their unique perspectives and talents and learn to love every bit of themselves… including the Autism.
Many people hate who they are, this is especially true in autistics, but sometimes it only takes the right person, the right moment, the right miracle to cross your path to show you what there is to love about yourself.
I think that if that happens… when that happens… even a person with Autism can come to accept, and love, being autistic.
Does that mean that people shouldn't use person first language?
Person first language does have it's place. And of course, I understand a parent's need to believe that their child is their child… not a label, not a diagnosis.
I also understand that acceptance is far more complicated than simple terminology.
While person first language will never go away, and is not always black and white, and does have it's place (such as in legal documentation, schools, governments, etc)… I do still believe that it can be a very clear indicator about a person's level of acceptance of that person.
While not a guarantee, because some parents truly do accept their child through and through, Autism and all… and still prefer to use person first language… I do feel that in most cases, it does show where they are on their path to true acceptance.
I would ask of those parents; if your child, at some point, shows a sudden aptitude for music, and it's due to their Autism… would you refer to them as a musician? An autistic? or both?
Think about this…  have you ever noticed that no one has any problem with the term "Autistic Savant"?
Have you ever heard anyone insist on "Savant with Autism"?
When it's a good thing, no one has a problem with it.