I want to share with you a conversation I had recently with someone that isn't even on the Autism Spectrum, but as you read, I want you to think about how it relates… because this was advice that I had given her as if she was on the spectrum.
Her story
She is a young woman, mother of two and very loving. She's never understood other parents who are eager to get their children on the bus to school or off to daycare in order to have a break because she's always valued her time with her children so much that being apart from them never felt like a break.
She was always great at school, always had a good job and always took her responsibilities very highly. Even so, she still loved to get out into the great outdoors, do hiking, camping and even had her hand in a bunch of sports.
Since having children though, she's given most of that up for the sake of her children, not that they need her that much, just that she'd rather spend time with them than to be out doing other things.
The crowd
The friends and family she has are quite a bit more carefree than she is. That is to say, they enjoy getting their breaks from their children. It's not that they don't love their children, and all children too, as much, it's just that they also value their freedom.
As such, the crowd tends to go out, drink a lot, party it up and endure the hangover the next day. They are more inclined to find ways to get their children out of the house to make sure that they can be as loud and obnoxious as they can be without affecting the children. Again, they love the kids and they're really not obnoxious but they have the freedom to be if they so choose without children being there.
The problem
One night, the woman found herself quite down on herself as she pondered her own short comings. She was boring. She was no fun. She was a square.
She began to realize that she didn't like partying, she didn't like drinking and she certainly didn't like being obnoxious. She tried her best to go out dancing with the crowd and she did her best to have fun with them. However, most of the time, she didn't drink, she didn't try to have conversations over the very loud music and she didn't want to stay out too late because her children would be up early the next morning.
She felt like a loser.
Meanwhile, the crowd felt weighed down by her. They depended on her to do the driving, they depended on her to be a part of the high spirits of the evening. And no matter how much she danced or sang or got obnoxious… she was never really one of them. She never quite fit in.
She knew it, they knew it.
You can't fit a square peg into a round hole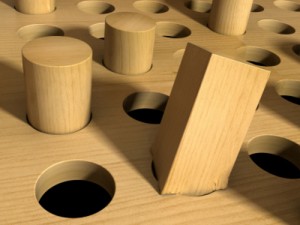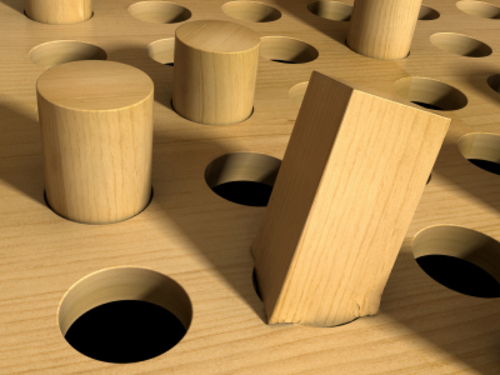 The reality of the situation is that she doesn't fit in with the crowd. They like it loud, they like to come home late and they like to be carefree. That isn't her.
That's not to say she isn't fun. As I said, she has her hobbies and activities and she actually does drink. She just likes to drink in a quieter setting where she can talk to the people she's with…. at a time where she can still get some sleep before her children wake up.
They value their freedom, their drinks, their late nights and their loud music. That's fun to them. It's not fun to her… yet she tries. She tries so hard.
Yet no matter how hard she tries, she feels like a loser. She feels like she can't have fun, she feels like she's boring.
Is she who she thinks she is?
Think about this. What happens if she finds another crowd that actually enjoys doing what she enjoys doing? Will she still see herself as boring?
See, what's happening is that she's trying to have fun doing what she thinks is not fun, in order to fit into a crowd that doesn't fit her.
She's altering who she is to fit who they are and rather than becoming what she wants to become, she's depressing herself because she's not that person. In the process, she loses who she is. She's not them, she's not herself… she doesn't feel like she fits in anymore. That's a lonely and dark place to be.
When you try to fit in with the wrong crowd, no matter how hard you try, you become someone you're not. Either you succeed and you're doing things you don't enjoy or you fail and you're unable to do the things you don't enjoy… either way, you are left feeling like a shell of a person.
How does this relate to Autism?
More and more, we try to "integrate" Autistics into "normal" classes and "normal" society… we teach our children the mannerisms, what certain expressions mean, how to behave in certain situations and so on and so forth but for the most part, we have to remember that what we're doing is helping them to fit into the wrong crowd.
That's not to say that I know what is or isn't the "right" crowd, but I do know that those people with Autism that are unable to tell what others are thinking or feeling are very rarely going to feel like they fit into which ever crowd they may find themselves in.
When they say that depression is common among those with Autism, you have to realize what it is that we're not only asking of them, but trying to force on them.
The woman that I talked to was simply doing her best to fit in with people that weren't the right people for her… she may be unaware of why she's becoming depressed but she's still doing it willingly.
With Autism, we've given most of them no choice. It's fit in or you don't belong.
Can you imagine how hard that is??
We can't stop helping our children and loved ones with Autism to "fit in." They do need to be able to navigate the world on their own but we have to remember what it is that we're asking them to do.
The woman in the story can learn where she's going wrong and adjust her own search parameters to find the crowd that better suits her.
My son can't.
The only alternative to help the woman, and my son (all those with Autism) is to help them be comfortable with who they are. To help them to fit in still, but to understand why they don't quite fit the mold as well or as easily as others do and to be content with themselves despite that.
Recognize why the crowd looks at them differently and why they look at the crowd differently and be happy with themselves despite that. Accept the crowd and the crowds differences as the crowd accepts theirs.
Square pegs don't fit into round holes. Don't stress yourself or depress yourself in trying. Be happy with who you are.
When you do understand it and accept it, you'll feel better about yourself, the crowd will feel better about you and even though it still won't quite feel right, it'll be a whole lot better.