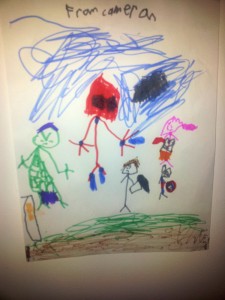 Cameron drew this great picture today. He's really quite proud of it.
Can you tell what it's a picture of? And who those people are?
I'll let you know if you're right at the bottom of this post.
The point of this post though, is that his drawing got me to thinking and for some reason, I just couldn't let it go and it dawned on me that this is really very important.
The Stick Man
A circle for the head. A line for the body. A line for each arm and a line for each leg. That's it. Big deal. Right?
Well, consider this; every single child, ever, has started out by drawing a stick man.
Most of you are probably thinking "ya? so?" while some others will be processing it for a moment to either form an argument to agree or disagree with that assessment.
A small, very rare portion, of you are probably dawning on just how significant that really is.
Think of it
When you stop and do the math on that, it's really quite remarkable. Let's say we focus on only the population we have now, not the population through out history. Just the people on Earth right now.
That's just over 7 billion people, living on several continents, in hundreds of countries, with a variety of skin colours and languages, rich and poor, religious and not, special needs or not, high and low IQs… everyone!! And they've all (or at least very close to all) drawn a stick figure. Whether it's in the sand, in stone, on paper, an etch-a-sketch or what ever means they have… children draw the stick man.
Sadly, this isn't a post about world unity, give peace a chance, joining with our brothers and sisters and so on.
No. It's about you. You and your child.
The first step
The real significance in this is that this is a common first step in what becomes a world of endless possibilities. Some of those children become astronauts, athletes, musicians and the ones that really love those stick men continue on to become artists.
But when you think about the greatest people in the world, whether brilliant or athletic or seemingly "born with talent" individuals, they all sucked at drawing the human form!
Even those who go on to be widely regarded as the greatest artists in the world, sucked at it at first.
The last step
I also consider the stick man as the last step in what makes us all the same.
From that stick man on, we stop doing the same things that everyone else on the planet has done. We keep on drawing or we find other interests. We persevere or we give up. We make decisions every single day that forever shape and alter our lives in ways that have never happened to anyone else, ever.
It's humbling to think that we all started out with the same talent (or lack of talent, depending on how you view a stick man) but it's also monumental to think that it's the last time that any of us will ever do something that every single other person has done too. (I mean, aside from bodily functions and other such humanity type stuff we need to do)
Possibilities
When I look at my son's drawing, a bunch of stick man figures together, I think of all the people that came before him, doing the same thing. How their parents must have admired their work too. How they must have progressed from that stick man to works of art that became priceless.
I think of presidents, rocket scientists, athletes and everyone else in the world that all started out with a stick man on a piece of paper and how they started out just like my boy.
No, not everyone has the same support in life along the way nor does everyone have the same challenges but in that stick man drawing is a beginning. And it's a very big world and there are going to be many, many more steps taken after that first one.
And if any of those other people can go from a stick man to becoming anything they want to be, then so can my boy. So can anyone!
So when your child draws a stick man and hands it to you and says it's you, or your spouse, or a friend or what ever it is… don't just say "that's nice" and put it on a shelf or in the recycle bin.
Really look at it and appreciate what's coming next. Whether big or small, record breaking or not, what comes next is the rest of their lives and it's going to be amazing!
The Answer
I did promise to tell you what it was that my son drew in that picture. I didn't forget.
It's The Avengers!
Hulk, Iron-Man, Thor, Captain America and some pink girl he decided had to be the villain.