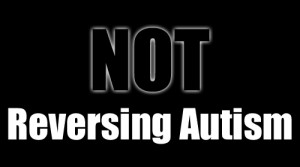 A news story hit my social media feed called "Could Early Intervention Reverse Autism?" and I just had to sign into my blog and start typing. I see this term all over the place… "reversing autism." It accompanies it's not so distant cousin "recovering from autism."
First and foremost, let me just say I am not a doctor, scientist, geneticist nor can I see the future. That being said… no. You have not reversed autism.
Let's just forget for a moment that autism is not a truck that you can simply throw into reverse and back up, there are countless studies out now about brain activity, wave patterns, synapse connections, brain size and more out there indicating just how different the brain of a person with autism functions in comparison to those without autism. Temple Grandin famously flashed her cerebral cortex on stage to the world.
Sitting down and teaching a child how to say "please" and "thank you" did not reverse any of that.
The fact is that teaching a child in a method that is more unique, one on one and specific to the individual person is going to get better results than tossing a child into a room with a bunch of other children and told to hope for the best.
A child that goes from a parent that knows nothing about autism except that it exists, to a trained, certified and experienced autism therapist is simply going to do better. Do better.
I put do better in bold because doing better is a very distinctly different from "reversing autism." By teaching a child to say please when they ask for something, have you just altered their genetic make up, brain activity or fundamental core structure? I think not. But you've taught them to be kind. That's nice.
To put it another way, stand up comedians spend years and years in small bars perfecting their routines, their delivery, timing and everything else. That doesn't mean they are "reversing unfunny." They were not funny, now they are. They didn't reverse anything. They got better.
Musicians start out learning what notes are, they mess up scales during practice. They learn how to put chords together. Eventually, they make real music. They didn't reverse anything. They got better.
Reversing autism is a very misleading term. It's also a hurtful one. I'm an adult with Aspergers. I learned how to socialize despite hating it, I learned to get people to like me even though I didn't want to be with them at the time. But nothing about me was reversed. I did better.
That's a bit of a slap in my face and the face of anyone that works hard to make real progress. To think you can just remove something and presto, they're a better human being. No, it was hard work, a lot of dedication, real effort. It still is! To strip that all away and say "oh, this is just how you are once we reverse autism" is a real shot to the heart when no, that's not true at all.
Nothing went backwards in my head. It went forward. I adapted, I learned, I grew. Children do that. Especially with the proper guidance and trained professionals to help them do so.
Stop making it sound like you're reversing a fever or a rash or an infection or cancer… you're not.
You're helping someone do better.
Let that be your headline because that is something to truly be proud of.