Every parent praises and celebrates their child when they reach milestones. We've all heard people go on and on about how their child took their first steps, or said their first word… but when your child has autism, and you wonder if those milestones will ever be reached because you've long passed their expected arrival time… you don't only praise your child for reaching them, you throw a party!
Well, ok, maybe not a party with balloons and noise makers but pretty close. A milestone isn't just a right of passage for a child with Autism, it's a major achievement.
Some children reach milestones right on time, some miss a few and some, sadly, never do reach some milestones through out their entire life.
That's what we all fear, that's what we all know is a possibility.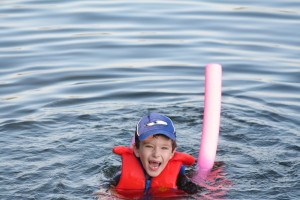 I'm very proud to say, because this is my mini celebration, that Cameron has been doing very very well leading up to his 6th birthday (in 11 days).
In the last month or so, he's learned how to buckle up his own seat belt, he's learned how to swim on his own (with a life jacket and noodle flotation thing) and he's even learned how to get fully dressed on his own. Not just an item or two but we can give him all of his clothes and he does it.
Pretty big stuff for a little boy about to turn 6!! Even bigger for a little boy that couldn't figure out how to press a button just over a year ago. He has come so very far, so very fast.
He's determined, he LOVES being able to tell people about what he can do.
So, sorry for a brag post… but you know what? We all need brag posts. It's time to celebrate and no one should ever feel shy or guilty for their child hitting those milestones. Shout it out loud!!
Besides, one day he'll read this blog (I hope) and I'd love for him to know how proud I am of him.