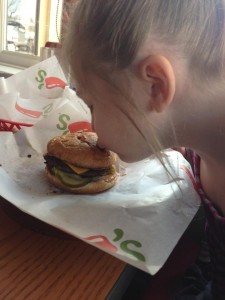 Recently a photo of a girl kissing a cheeseburger went around the internet like a lightning bolt, shared by millions and adored. I won't get into the whole story but you can read about it here.
Most people loved the story while some others questioned, why is it that we cry just because someone is nice to an autistic child?
Stripping away our desire to have this happen with our own children, it's a fair question. No one cries when someone does this for just any child. No one even makes it into a story and it certainly doesn't go viral.
Is it because we're supposed to feel pity or sorrow for autistic children? Is it because autistic children are poor little defenseless lambs in comparison? Is it because autistic children are viewed as the underdog and thus needing special treatment and we just love to hear that they get it?
Or is it because it simply does not happen? At least to us.
When you have a child with autism, you feel the stares as your child behaves in ways that others may not understand. We feel the judgments as people think we're terrible parents while our child suffers a meltdown.
More so than that, we know full well just how cold people can really be when we ask for something as simple as an uncut burger and they huff, roll their eyes, refuse to appease us or do appease us but do it with an obvious amount of disdain for what we're putting them through.
It's because we know what it's like to have to just up and leave a nice lunch out because someone refused to simply do something we needed and our child erupted into a complete and uncontrollable meltdown.
It's because we know just how powerless we are against bitter, unhelpful and even rude people who simply do not care about you or your child.
So when we see someone, not just someone but their manager and other co-workers and an actual group of people who go out of their way to not just be understanding but to do something special, no matter how small, or how big, but to just do something they never had to do at all… it's a tear jerker. It's a shot to the gut… because we want so bad for someone, anyone to just be kind enough to do that to our own child. Just once.
Because trying and trying and trying to find someone who'd simply show us and our children just a little bit of compassion… we keep coming up empty.
And in this one photo, this one story, this one simple act… we find it.
In that instant, we have renewed faith. In others. In ourselves, that one day we'll find someone like that too and should never give up. And most of all, in humanity.
There are kind people out there. People who won't ask me to leave. People who won't judge me. People who won't grunt as I make a small request of them on behalf of my child. People who will not just accept that my child is there but actually make an attempt to make my child happy… no matter how silly it may seem.
There are people out there, who care.
Today, right now, in this world, that's a nice thought. It's comforting. There's hope.
They're happy tears.