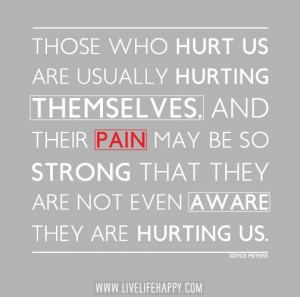 If you've ever lashed out at someone in anger, if you've ever expressed your opinion as if it were fact in opposition of someone else's opinion, if you've ever labelled a complete stranger as something terrible when you couldn't possibly know, if you've ever accused a stranger of something without possibly being able to know if it's true or false, if you've ever attacked someone because they think differently than you… you are a part of the problem.
If you fight for acceptance for yourself, a loved one or on behalf of an entire community but you use hate, anger, bullying, accusations or any other form of verbal (or physical) attack as a method of gaining that acceptance… you are hurting us, not helping.
I have watched for years as the media tries to portray autistics as potential time bombs of aggressively violent energy. They try to pin autism on mass shootings or tell stories of padded cells in classrooms that are designed solely for autistic children. I hate seeing these stories but I do like the aftermath in which the entire community often joins together in an effort to show the media and the world just how wrong these portrayals are.
But then I visit a Facebook fan page, read a Twitter update or scroll through the comments on an autism blog and what I find is so discouraging. I see good people fighting a good fight but instead of sharing or expressing opinions, they're lashing out. They're hating each other. They're… aggressively violent.
When I see a self advocate lash out repeatedly at parents or even other autistics, accusing them of being potential murderers or I see a parent telling all other parents that they must hate their children because they don't word things in a certain way or I see a parent accusing another parent of supporting domestic violence because they don't report their autistic child for having a meltdown… I see our collective efforts falling backwards. Not progress.
All this negativity, all this lashing out, the accusations, don't you see where the media is getting it from? Don't you see where the misconceptions are coming from? It's not from something they make up. It's not from fantasy. It's from you.
How can I ever hope to prove to anyone that autistics are good people, because I'm a good person and my son is a good person and other autistics that I know are good people, when I see so many other autistics that are so full of hate everywhere they go? How can I ever prove that parents want a more peaceful, tolerant and accepting world for their children when I see so many other parents focusing so much of their time and energy on judging and hating other parents that they don't even know?
If acceptance is what you want but all you ever seem to do is hate… you are hurting us. And by us, I mean you and me and everyone. You are a part of the problem. Like a car crash during a Formula One race, you are what the people will see and they'll think that's all there is. They'll quickly forget all the good things done and all the great things said and they'll report on your hate. And that's how we will all be painted.
What I fear most is that you won't even realize that you are the one that hurt us. You won't even realize that you hate the media even more after and be even more hateful then before. And you won't even realize that the hate you spread will only hurt us more from there.
Yes, it sounds crazy, but it's what I see. It's what my opinion is.
You might not like me for saying it but if you are trying to hurt someone else, then you are the problem. You are hurting us.
And honestly, if you don't like that I'm saying this then perhaps you should ask yourself why that is. Perhaps it has more to do with you than it does me.
This is part 3 of what I want to say on bullying, hate and the autism community.
Parts 1 and 2 can be found here:
Hate me, for I am but a lowly autism parent!
Adults are bullied too. Don't let it happen to you.