I recently got Gnomeo and Juliet for the boys, it's quite the cute take on an old classic. Also, it's very bright, colorful and full of action. Just perfect for a couple of energetic young boys.
I don' t want to spoil the end for you, so stop reading now if you don't want to know… They don't die at the end. Actually, instead, there is a really great feel good moment at the end that should make you quite happy.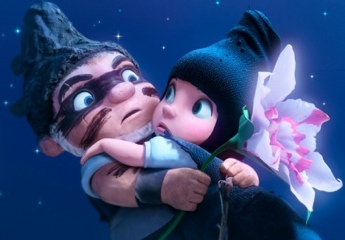 As the moment happened, Tyler (my 3 year old without Autism) jumped up and said "hooray" and gave me a big hug.
Contrast that with Cameron (almost 6 with Autism) who said "Dad, he has blue hat!"
Now, it's not that Cameron wasn't happy at that moment, it's just that he had made an observation and that became his primary focus.
This tends to happen a lot and some people mistakenly think that Cameron has no feelings or that he lacks empathy but the truth is that it's just not what comes out of him at the time. The feelings are in there.
Just because the logic trumps the emotion, it doesn't mean that the emotion isn't there.