Recently, Dr. Allen Frances made the comment that Autism was becoming "fashionable" or a "popular fad diagnosis." Before you read further, I invite you to read his article in full to understand it in context.
Now, many people, even after reading it in context, were outraged. How dare he? Who does he think he is?
Hopefully I can help clarify some of it, at least, in terms of how I interpreted his statements. You may agree with me, you might not. That's all ok either way. My only goal is to give you a possible new way of interpreting his meaning.
Who is Dr. Allen Frances?
First, I'd like to tell you who the man is because when I posted the link to this article in a few places, people were quite appalled and upset that this "ignorant" man would say such a thing. They questioned his qualifications and suggested he look up the word "spectrum" in the dictionary.
For those that don't know, Dr. Frances is not just a notable doctor, he was the man in the big chair of the committee that defined the DSM-IV(4).
The DSM is the Diagnostic and Statistical Manual of Mental Disorders… what you and I would call, the guidelines to diagnosing disorders such as Autism.
He was the man responsible for the introduction of Asperger's Syndrome into the Autism spectrum.
So yes. He's qualified.
Fad Diagnosis?
Most people read this one statement and immediately assumed that he was saying people were being diagnosed to be cool or popular. Obviously that is not his intention at all as it's fairly obvious that no one would do that. The general population see disorders such as Autism, Schizophrenia and so forth as negative things… as something they really do not want to be associated with. (most people hear "disorder" and think "crazy"… which is sad, but true)
What he more likely means is that Autism has taken over mainstream media to the point where people discuss Autism around the water cooler now. Every parent wonders about it, every new parent fears it, schools need to be aware of it and anyone within the Autism community promotes it's awareness.
As a result, people are looking for it. And we all know, when you look for something hard enough, you begin to see it even though it's not really there.
Milder form? What?
What he is saying, I think, is that Autism was never really supposed to have a "mild form" or "mild presentation," as he states in the article. That is to say, either you're very clearly Autistic or you're not.
The DSM-IV was designed such that you'd fit a certain number of criteria to be diagnosed. That is to say, you must have several impairments and thus, be considered disabled. You read that right, disabled.
However, by including Asperger's, he allowed for people with "milder" symptoms to qualify for the diagnosis which means that individuals who show some signs yet are not disabled now qualify.
That's not to say that all individuals with Asperger's are not disabled… many clearly qualify which is why there is such a classification in the first place.
The problem is that there is no clear boundary set any more which means that a lot of people fit the bill.
Real life example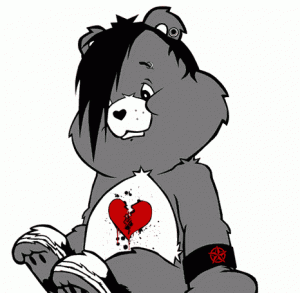 Take your average rebellious, down trodden teenager who hates school, has no friends and doesn't feel like they fit in. Sometimes they're "emo", sometimes they're "goth"….  sometimes they're just kids.
The question becomes… are they just being miserable or are they Autistic?
I could argue that pretty much every single "emo" person out there qualifies to be diagnosed with Autism or at the very least, Asperger's.
Are they? No.
At least, certainly not all of them. Most move on from that phase and go on to be normal (semi normal anyway) adults with a regular life.
But as the DSM-IV stands, or at least the way it is interpreted today, every single rebellious, not fitting in teen, could be diagnosed on the spectrum!
See how that could be considered a "fad diagnosis?"
To make matters worse
Doctors are under a great deal of pressure when a parent faces them with a child that isn't reaching milestones or is having issues… if a parent is convinced that something is wrong, the doctor stands there with a decision to make. Is the child just not smart, is that parent truly just a bad parent… or do they fit on the spectrum enough to squeeze them a diagnosis so that they can get some therapy/help?
This article is from a tabloid newspaper so it needs to be taken with a grain of salt, however, if even a shred of it is true, it's easy to see how something like this could be perverted into a method to gain funds or help in other areas.
Autism is the popular disorder right now, it is beginning to gain traction with governments and insurance agencies. If money gets channeled to this area, parents and doctors could find a way to squeeze children into a diagnosis that gets them the help they need.
It may get worse before it gets better
In May 2013, the DSM-5 is scheduled to be released with even more major changes. Keep in mind however that it's still going to be a while before it's complete so the proposed changes are not final as of yet.
The DSM-IV introduced Asperger's into the Autism Spectrum and now, the DSM-5 plans to wipe out Asperger's entirely. Yes, you read that right.
Proposed changes include removing classifications of various disorders and syndromes in preference of using a "severity scale". I use quotation marks but that's what I call it.
Essentially, you'll be given a diagnosis as Level 1, Level 2 or Level 3 which will determine the amount of support you'll need. Click on the "severity scale" to read more on it from the official site.
So the whole issue with having "mild presentation" will once again become even more… milder? Uhmm… more people will fit the criteria. That sounds right.
And don't think these changes are limited to the Autism Spectrum. Several types of schizophrenia will also be removed.
You can read the actual DSM-5 site here, if you don't easily fall asleep while reading science speak.
PS. For anyone that noticed and is wondering… up to and including the DSM-IV, they used roman numerals but have decided to do away with that and use regular numbers starting with the DSM-5. So it's not just me flip flopping… honest.
Back to the fad diagnosis
So yes, I can understand the outrage that many people felt because it was almost as if he was calling us liars… telling us that we had our children diagnosed just because we thought it was the popular thing to do and not because our children really are Autistic.
But I can assure you, at least from my understanding of it, that it was not his intention at all. Those who clearly fit the criteria and are deserving of a diagnosis have nothing to be offended by.
My son is very clearly autistic, he very clearly fit the criteria… he still does.
Perhaps that is why I did not take offense.
Clarification
To clarify and conclude, Autism is a disorder that is considered a real disability. It impairs many, or even all, aspects of your life.
The question is, are those who have difficulties and struggle qualified to be on the spectrum? Are they truly disabled? Are they truly impaired?
What do you think?
Do you think that people are being diagnosed a little too freely today?
Maybe the boundaries of what is and isn't Autism should be confined a little more?
Do you think he meant something different than my interpretation? And if so, what did you take from it?
I'd love to hear from you.